Probably, washing your hunting backpack becomes necessary after a successful hunting trip. Once you hunt an elk or deer your bag certainly gets dirty by stains, debris, or blood spots, and even after some time it smells badly. But no need to worry a dirty bag like this is a symbol of pride for hunters as it indicates dominant hunting.
Well, this article aims to guide you about how to wash hunting backpack. Because unnecessary particles should be removed to keep it functioning perfectly.
Fortunately, you do not require any special tool for cleaning or putting the backpack in the washing machine. To wash your pack thoroughly, you just need to have a bathtub, a hose, and scent-free detergent. 
Related: Best Hunting Backpack Under 100
STEPS FOR CLEANING HUNTING BACKPACK
Following steps or tips will let you know all about how to clean a hunting backpack.
STEP #1: Read the washing instructions
STEP #2: Disassemble the pieces
STEP #3: Give a firm shake-out
STEP #4: Spray down the pieces
STEP #5: Use cold water to wash
STEP #6: Soak it in detergent
STEP #7: Give a Hand Wash
STEP #8: Rinse and Repeat
STEP #9: Hang it out to dry
STEP #10: Get the pieces together
 Now, let's get right into the guide that will lead you on how to wash hunting backpack.  
STEP #1: Read the Washing Instructions
Read the manufacturer's washing instructions before you start cleaning your bag because most of the hunting packs are hand-washable. I mean some backpacks made of leather can't be washed in a machine, while nylon fabric packs allow machine washing.
STEP #2: Disassemble the Pieces
It needs to separate the major components for the thorough cleaning of hunting clothes. You can disassemble the waist belt, hip belt pouches, straps, and also shoulder harness by breaking its Velcro connections from the frame. Make sure to note their positions so that you can re-attach them perfectly.    
STEP #3: Give a Firm Shake-out
Once you separate the pieces, open all the zipper compartments and lid for manually removing dirt, leaves, and debris. After that shake all the pieces firmly and turn them upside down. If a shaking backpack does not work, you can use a handheld vacuum or carwash.
STEP #4: Spray Down the pieces
Use a garden hose with a pressure nozzle attached to give each component a fine spray-down to remove deep grime. Besides, you should give extra attention to the frame panel, backside of the bag, and, load shelf area. Because a power sprayer will help blast away minor contaminants.
STEP #5: Use Cold Water to Wash
Ice cold water is best to use when you are going to remove blood stains or other strong spots. Conversely, hot water tends to fix the stains in fabric clothes. Therefore, cold weather is better than hot water.
STEP #6: Soak it in Detergent
Firstly, fill the bathtub with cold water and mix scent-free detergent like Sport Suds or non-UV soap. Put each component of the pack in the detergent water bathtub and let your backpack soak for 1 hour or above. Besides, you should agitate and turn the pieces after small intervals of time to ensure optimal washing.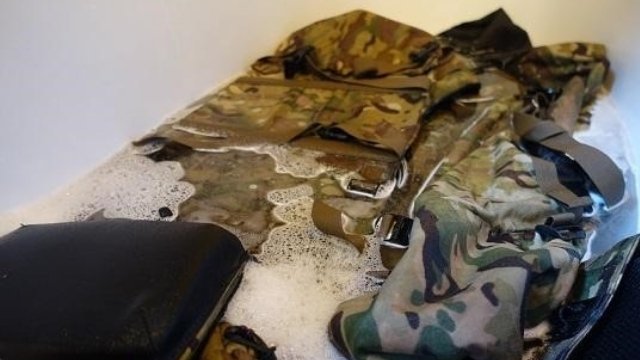 STEP #7: Give a Hand Wash
Probably, after enough soaking your backpack does not require scrubbing with a brush. You will just need to give a good hand wash to get your pack clean and stainless. If this trick doesn't work, use a sponge to scrub all the components vigorously.
STEP #8: Rinse and Repeat 
Dump out the dirty water after each manual wash and do this method multiple times. Add some detergent more in clean water and massage your pack gently in the soapy water and keep it soaking again for 15 minutes. Once the soaking has done, take it out and give your pack components and gear a quick-hand rinse thoroughly.
STEP #9: Hang it out to dry
After all these washing stages, you will be going to hang up all the components to dry. Make sure to dry it for at least 12 hours and keep zippers and buckles in working condition. Besides, immediate drying will definitely minimize mildew smells if they present.
STEP #10: Get It Together
Once all components get dry, then you can reassemble your hunting pack for a new adventure. Start by attaching the hip belt and frame harness if you removed them. Lastly, fix the lid of the backpack.
SUM UP
No doubt, a hunting backpack is necessary to keep your hunting gear organized and easily accessible. Successful hunting usually leaves some spots on the bag. Probably, you do not like blood spots, dirt, or debris on your backpack while leaving for hunting trips. 
Related: Best backpacks
If you pass from a similar situation, you will definitely think about how to wash hunting backpack. To literally resolve that problem, a complete guide is given above that provides you an easy way to wash your backpack. After a few minutes of effort, your pack will be ready to use. Guys, go for another adventure without fear of getting your backpack dirty. Good Luck.
FREQUENTLY ASKED QUESTIONS (FAQS)
How to wash hunting backpack quickly?
For washing the custom hunting backpack quickly, you need a dish sponge, some warm water, and mild soap to wipe the stains from both the inner and outer sides of the backpack. Conversely, a very dirty bag requires deep cleaning.
How to wash hunting backpack kit?
To wash your hunting backpack kit and hunting clothes properly, you have to use specifically made detergent such as Sport Suds or non-UV soap. Massage your hunting kit in soapy water and keep it soak for 15 minutes. Give your hunting gear a good rinse after soaking.
Can I put my hunting backpack in the washing machine?
Depending on backpack material, some packs do not allow machine washing. Nylon hunting backpack remains safe to put in a machine for washing. While day pack bags made of leather allow only hand washing.
What happens if you put a backpack in the dryer?
Putting a backpack in the dryer probably damages your bag. You should hang your hunting backpack out to dry naturally instead of using any direct source of heat. Besides hanging the backpack upside down make sure there is no water left in corners or pockets.
What can I use to clean my backpack?
Cleaning a backpack becomes necessary after a successful hunting tour. To clean your backpack properly, you need to have some bleach-free gentle detergent and cold water for delicate washing.
How to wash Exo Mountain Gear Backpack?
Washing Exo mountain pack is recommended after each hunting trip. These backpacks can be washed through the given steps below.
First of all, take apart your bag and bring it in the soapy cold water of scent-free detergent. Wash and rinse all the pieces and let them soak in water for an hour. Then wash it and hang out to dry. Once all the components get dry, assemble them, and use your hunting pack for the next adventure.